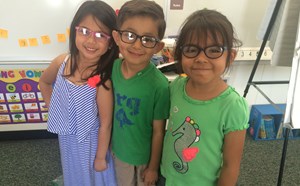 New this year, GGUSD has expanded its transitional kindergarten program to serve more 4-year-olds than ever before. If your child was born between September 2, 2016 through September 1, 2017, please register your child for our free full day kinder…
Principal's Message
Dear Brookhurst Families, Students, and Community Members,
At Brookhurst Elementary, we are committed to preparing all students to be successful and responsible citizens who contribute and thrive in a diverse society. We are dedicated to providing a quality education to all our students within secure and supportive environments. Our teachers maximize learning by emphasizing critical thinking skills, problem solving and scholarly habits that allow students to monitor their own learning for improved academic outcomes.
Through our monthly Instructional Leadership Team Meetings, weekly collaborations and Student Study Team Meetings every 6-8 weeks, our teachers work together to ensure all students are progressing both academically and socially.
Social growth is promoted by our focus on the following character traits: responsibility, respect, courage, caring, perseverance, honesty and fairness. Excellence in academics and citizenship are recognized at our Dolphin assemblies.
We thank our dedicated and supportive parent and community members! Our volunteers regularly help inside the classroom and in the office on projects that support our students.
To maintain a strong home-school connection, parents have many opportunities to participate in school activities. We have a PTA that works as a team in fundraising activities to provide the "extras" for our students, such as: fieldtrips and special assemblies.
The Brookhurst school community makes a positive difference in the lives of children. There is no greater validation as an educator or parent than to see our students succeed.
Sincerely,

Nicole Van Wilgen Moore
Principal
Our School
Brookhurst has a strong academic program and students outperform the state average on rigorous standardized tests.  Students receive academic support at home through free online interventions, which help students improve math, language, and, reading skills. All students have Chromebooks and iPads and engage in innovative technology use as part of daily instruction.

Brookhurst's robust College and Career Mentoring program pairs elementary school students with college mentors who serve as positive role models, help with school work, and promote positive self-esteem.  Our school also boasts an outstanding free state preschool program that supports early learning and prepares children for kindergarten.

Childcare and engaging after-school activities in academics, art, and athletics are provided by the Boys & Girls Club. Brookhurst's active Student Council plans fun school activities and promotes kindness on campus. Brookhurst offers many parent education programs and classes to ensure parents are equipped to support student success. 

Student success is celebrated with a monthly award program. The Scholar Award celebrates academic success, The Inspire Award recognizes personal or socio-emotional accomplishments, and the school's PBIS character education program fosters ongoing recognition of student accomplishments.

Choose Brookhurst!
Highly qualified and supportive teachers help students reach high academic standards
Strong record of academic growth; students outperform state average on standardized tests
2018 California Honor Roll School for high academic outcomes
Excellent state preschool, free of charge for qualifying families
After-school coding and robotics enrichment program for 6th graders
Chromebooks and iPads for all students
Robust College and Career Mentoring program
Exciting choral and instrumental programs to bring out the inner musician in students
Active Student Council members plan fun school-wide events and activities and fundraising campaigns to give back to the community and those in need
Brookhurst's PBIS (Positive Behavior Interventions and Support) system  allows all students to learn schoolwide behavior expectations through presentations in September and January
Cultural celebrations including professional lion dance performances in recognition of the Lunar New Year
Learning extends beyond the classroom with engaging field trips, hands-on science presentations, and student re-enactment of historical icons in "Walk Through Ancient Civilizations" school event
Parent Education Classes equip parents with tools to support student growth and active PTA hosts fundraising efforts to support field trips, hands-on science assemblies, and classroom performances, and more
Three 

community liaisons to assist our Vietnamese and Spanish speaking parents and host parent education workshops throughout the year